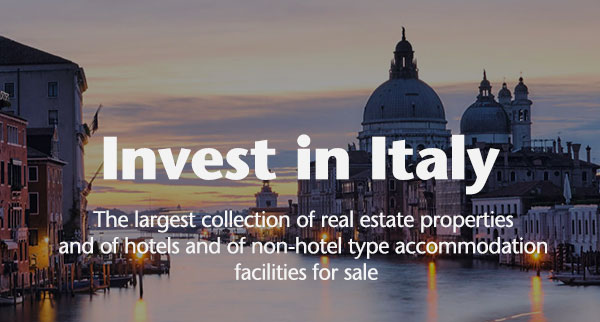 THE OBJECT




WHAT IS OFFERED FOR SALE
We have immediately available thousands of properties including:
beautiful real estate properties (over one billion euros value);
beautiful hotels and beautiful accommodation facilities of non-hotel type (very interesting and low value of businesses and companies);
we have a portfolio of around 500 hotels, etc…
Which have been carefully evaluated, selected and immediately available.
The selling prices of hotels and real estate properties in Italy are currently attractive, convenient and affordable for those who buy.
The current low real estate prices in Italy are a temporary and contingent market anomaly and, in the medium term, their value will increase.
What is offered for sale is:
Perfect for creating and building, for example, a real estate fund or other similar financial product.
With immediate and secure revenues, consisting of rental fees for the rental of buildings where businesses and companies carry out business activities.
With a return on invested capital (ROI) of more than 20% (twenty percent) per year.
With us you can choose the economic size of the investment and of the purchase.
We can adapt to your business or business plan needs.
If we do not have what you are interested in, we can find it only and specifically for you.
WE ARE LOOKING


FOR INVESTORS AND BUYERS
We are looking for:
immediate and potential investors and buyers from all categories and sectors who are or could be interested in investing and buying in Italy real estate properties and companies and businesses.
For example: investment funds, pension funds, investment banks, merchant banks, real estate funds, business banks, private investors, hotel chains that want to enter in the sector in Italy, operators of the tourism and hotel sector who wish to enter the Italian market, corporations that want to invest and diversify, private customers, potential customers, other types of subjects and anyone in interested.
If you know personally or through a third-party company owners, company CEOs, entrepreneurs, wealthy people, company managers and company directors, etc., activate your contacts now.
WORK WITH US




YOU CAN EARN WITH US – WE ARE LOOKING FOR COLLABORATIONS
WE LOOK FOR COLLABORATIONS WITH INTERMEDIARIES
Are you: a real estate operator, a real estate agent, an accountant, a lawyer, an architect, a professional, a broker, a financial system operator and a banking system, a manager, a professional investor, the owner and / or manager of a hotel chain, a professional operator in the hotel sector and in the non-hotel hospitality sector, a private investor, an interested buyer, something else ….?
Have you contacts, knowledge, relationships, etc. … with immediate and potential investors and buyers who are or could be interested in investing and buying real estate properties and hotels and other non-hotel type accommodations facilities in Italy?
If the answers are positive, then you can collaborate and work with us
and earn money TOGETHER WITH US.
CONTACT US NOW WITHOUT COMMITMENT
WE WILL PROVIDE YOU PRELIMINARY INFORMATION
Help us find buyers, customers, investors who wish, who want, who are interested and who might be interested in investing and buying in Italy.
Propose the safety, quality, competitiveness, convenience, profitability, style, beauty and quality of life of an investment in Italy.
Collaborate and work and make money with us.
We can get excellent revenue and profits quickly.
We can satisfy almost all possible requests: individual investments, small investments, average investments, large investments, etc….